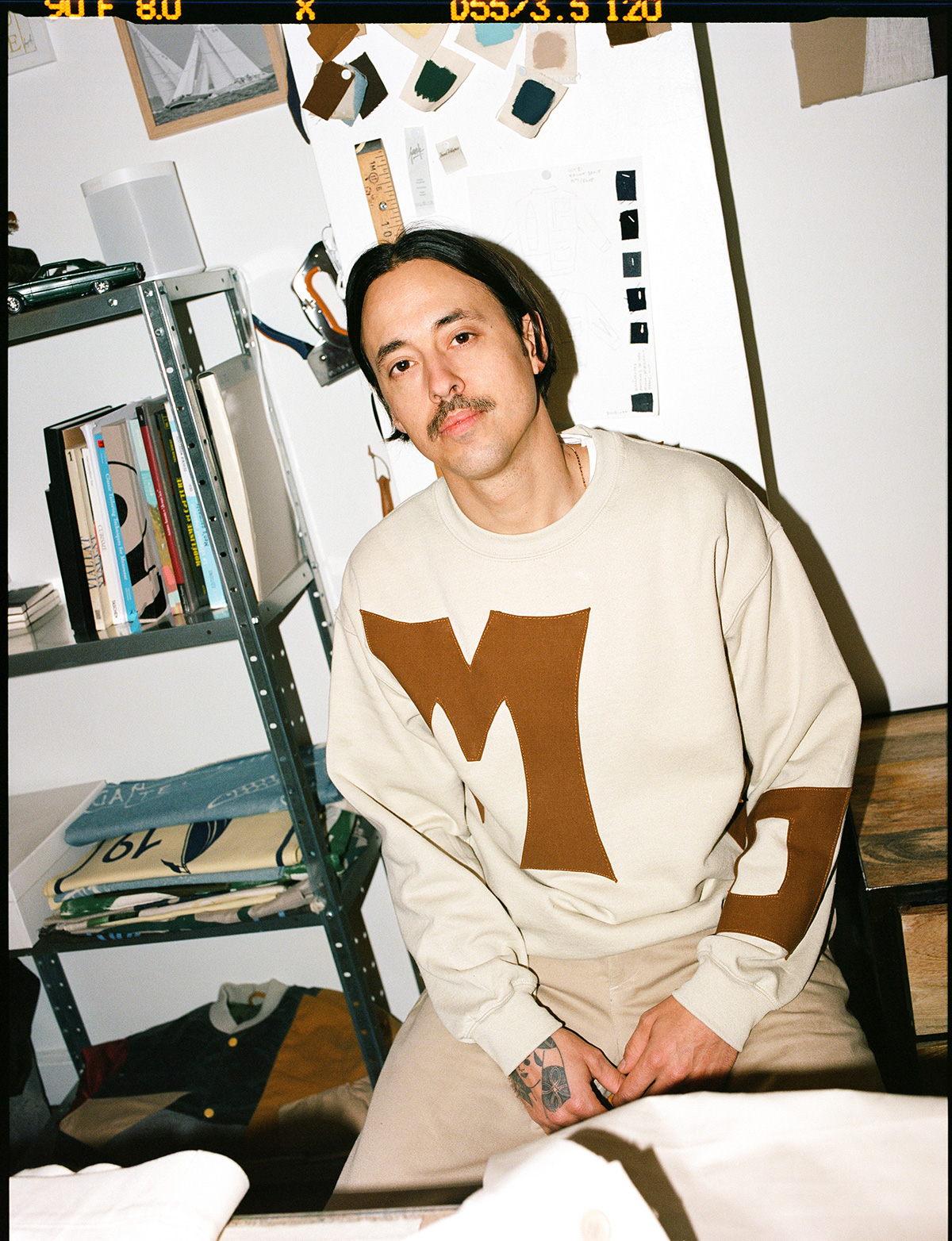 Conversation with Franck Pellegrino
Words by Gino Delmas – Photos by Matteo Verzini
Sitting in a café in Paris' second arrondissement, artist Franck Pellegrino could talk about clothes for hours. "They're a cornerstone of my life," he explains enthusiastically.
Illustration, painting, tattooing, the thirty-something-year-old likes to work across various art forms and mixes typography, color blocks, and abstract shapes. For the past few years, he has applied his approach to a new medium: fabrics.
At our request, he designed two textured and poetic compositions for the MAN FW22 and WOMAN FW22 campaigns. And as he is nothing if not thorough, he will extend these creations through a collection of unique wearable works, which he will unveil at his next exhibition in March.
Read on to learn more about the man and his passion for materials.
How did the collaboration with MAN/WOMAN come about?
I discovered the trade show in 2017 through Kyle Kivijärvi of Adsum, a friend I met in New York a few months before. I saw him again in Paris at the MAN show at la Montgolfière, right next to the Canal Saint Martin. And then I met Antoine (Floch, MAN/WOMAN co-founder) through a mutual friend a few years later.
Two years ago, my wife collaborated with them on the WOMAN show, and quite naturally, we discussed working together for the 2022 season. The process was super simple; they gave me the brief – an artwork for each of the two upcoming shows – and let me do what I wanted.
Tell us about the process for the MAN/WOMAN campaign artwork
Just before the Covid-19 pandemic broke out, I felt like I needed my art direction to evolve. I wanted to return to something even more manual, almost like craftsmanship. From painting to fabrics, the media I work with has progressed quite naturally.
I felt this desire for my art to capture the essence of manual creation and the tools used in the process. Throughout my entire life, fabrics have played a significant role. One way or another, my jobs have always brought me closer to them.
For this project, I really wanted to create a visual that reflects how the materials feel. I tried to build volume by assembling fabrics from a variety of backgrounds: military ripstop, French denim, vintage corduroy, and recycled cotton. Fabrics that I like to touch and that are found within the collections of the brands presented during the show.
On top of that, I wanted to use the season's colors and the graphic codes of the two represented cities. I created two pieces, one for the MAN show in New York (dates) and one for the WOMAN show in Paris (dates), each with its own set of fabrics, colors, and typographic composition.
Because I consider fabrics to be living material, I really wanted them to feel like they were moving, floating, as it breathes life into the art. There will also be a third, larger work in the form of an installation, which will hang over the show venue, like a banner.
Let's talk about clothes. What is your relationship to clothing and fashion?
It's one of the cornerstones of my life. I was a teenager in the 1990s, the golden age of hip-hop and graffiti. I did some skateboarding, too, quite a lot actually, and clothing was also important in that scene.
The 1995-2000 period shaped my relationship to style. Most of my go-to classics come from that era. My first jobs were in clothing, and more precisely around jeans. I learned the industry's codes, its techniques, manufacturing, fabrics, and materials.
At the same time, what I really loved was drawing, painting, and creating. I'd spend nights working on my art after work until the day my artistic universe finally took shape, and I dedicated my entire life to it. My development as an artist has always been closely related to the tools I use, be it spray cans, brushes, tattoo guns, and now sewing machines.
For a little over two years, I've been working in a workshop in the Sentier district (editor's note: Paris' historic fabric wholesalers district), the perfect place to find fabrics. I'm teaching myself to use a new tool, I'm eager to learn more, I'm meeting people, I'm not afraid to knock on doors and weave links between the different experiences that have shaped my aesthetic.
As an organic material, fabric teaches me to stay humble in the creation process. I'm no longer alone in control, my machine plays a role; it has its "touch". I love how the fabrics are alive and react in their own distinctive ways.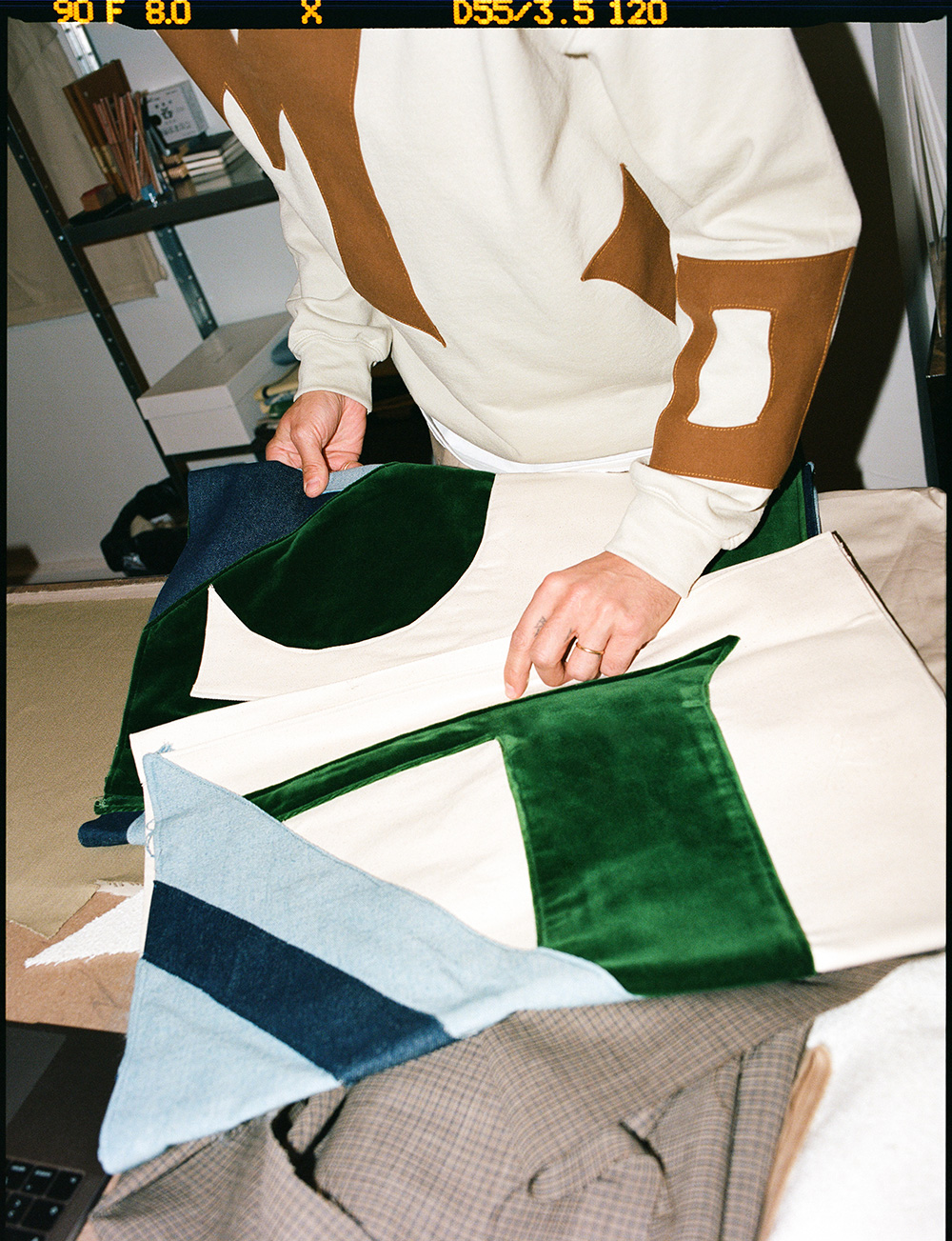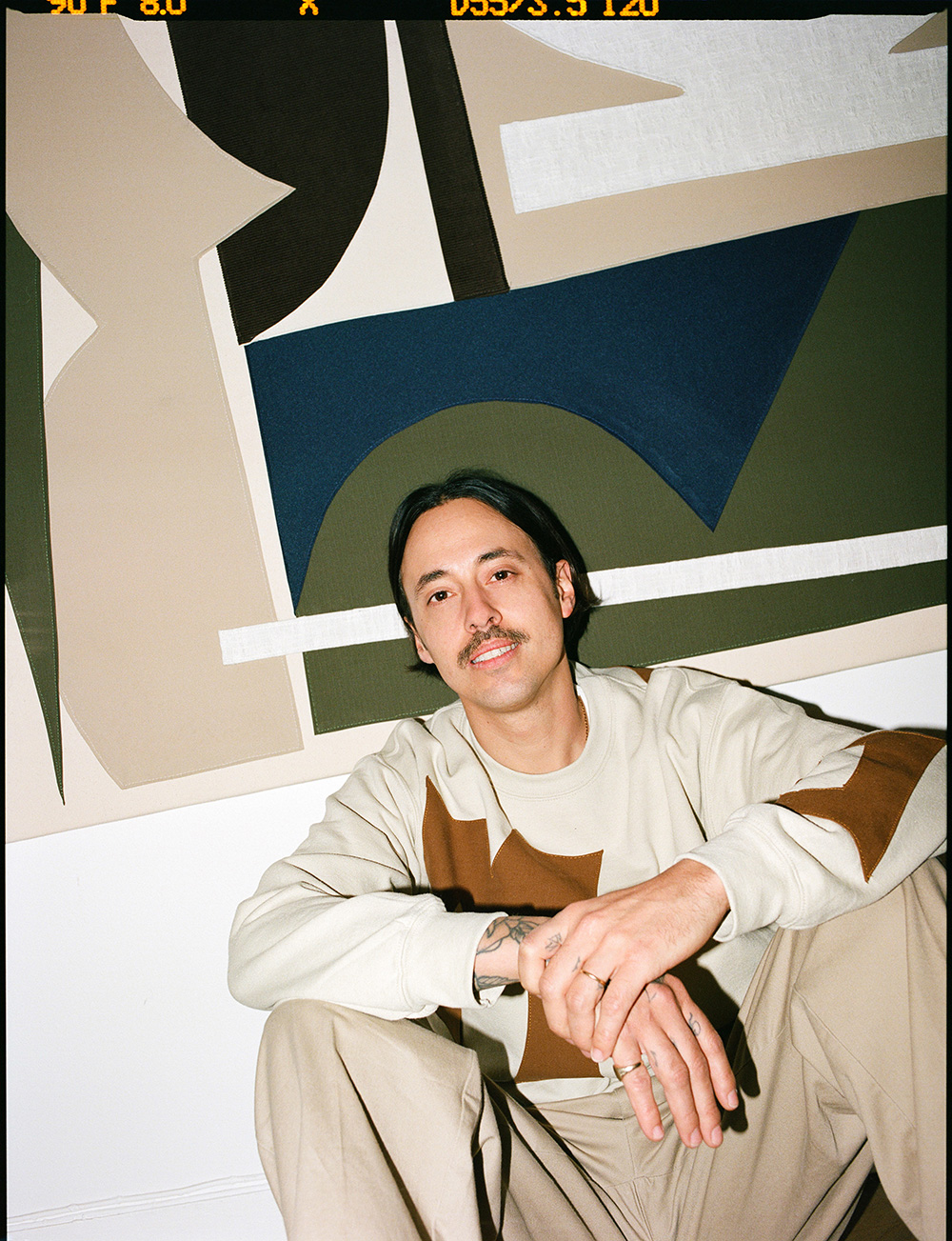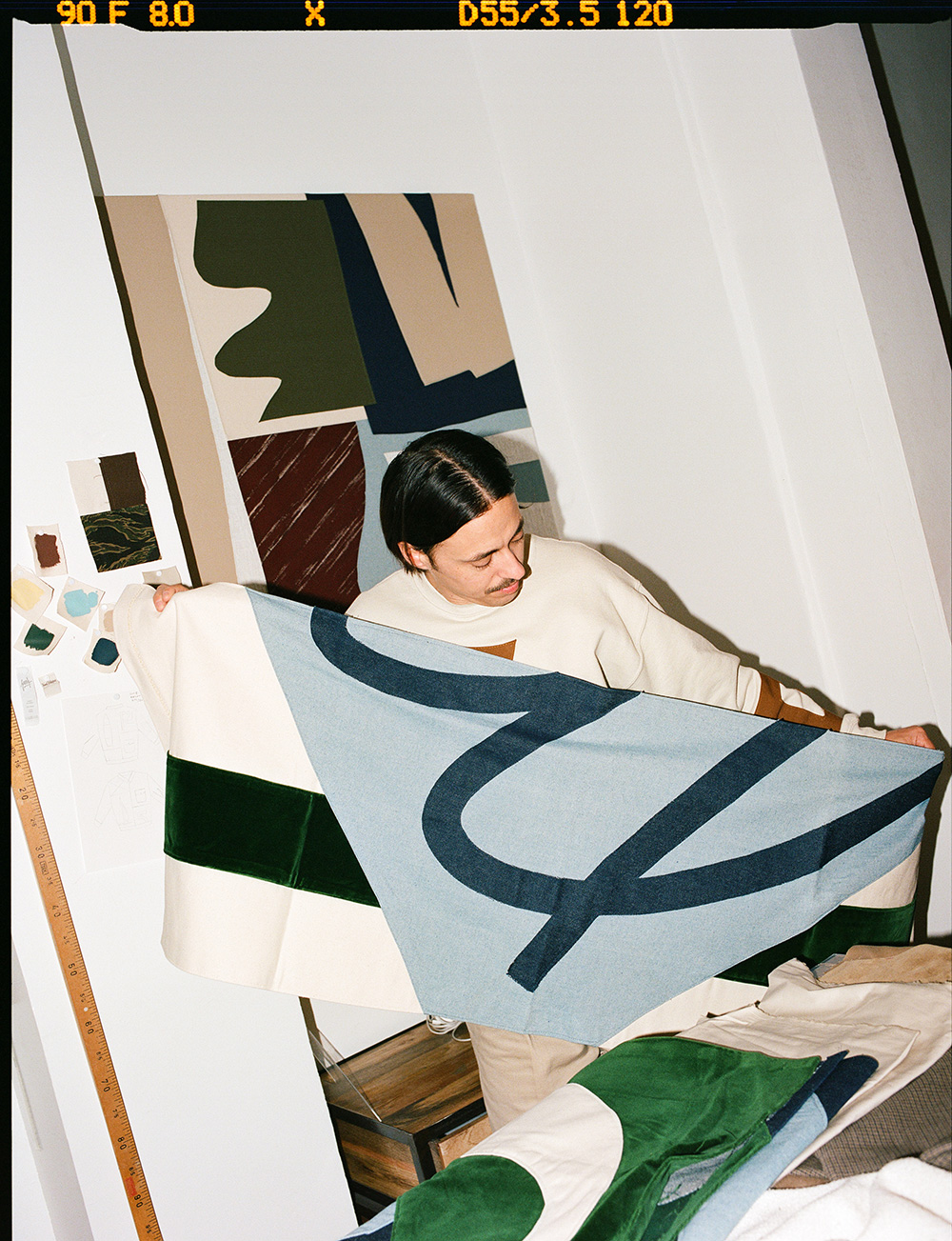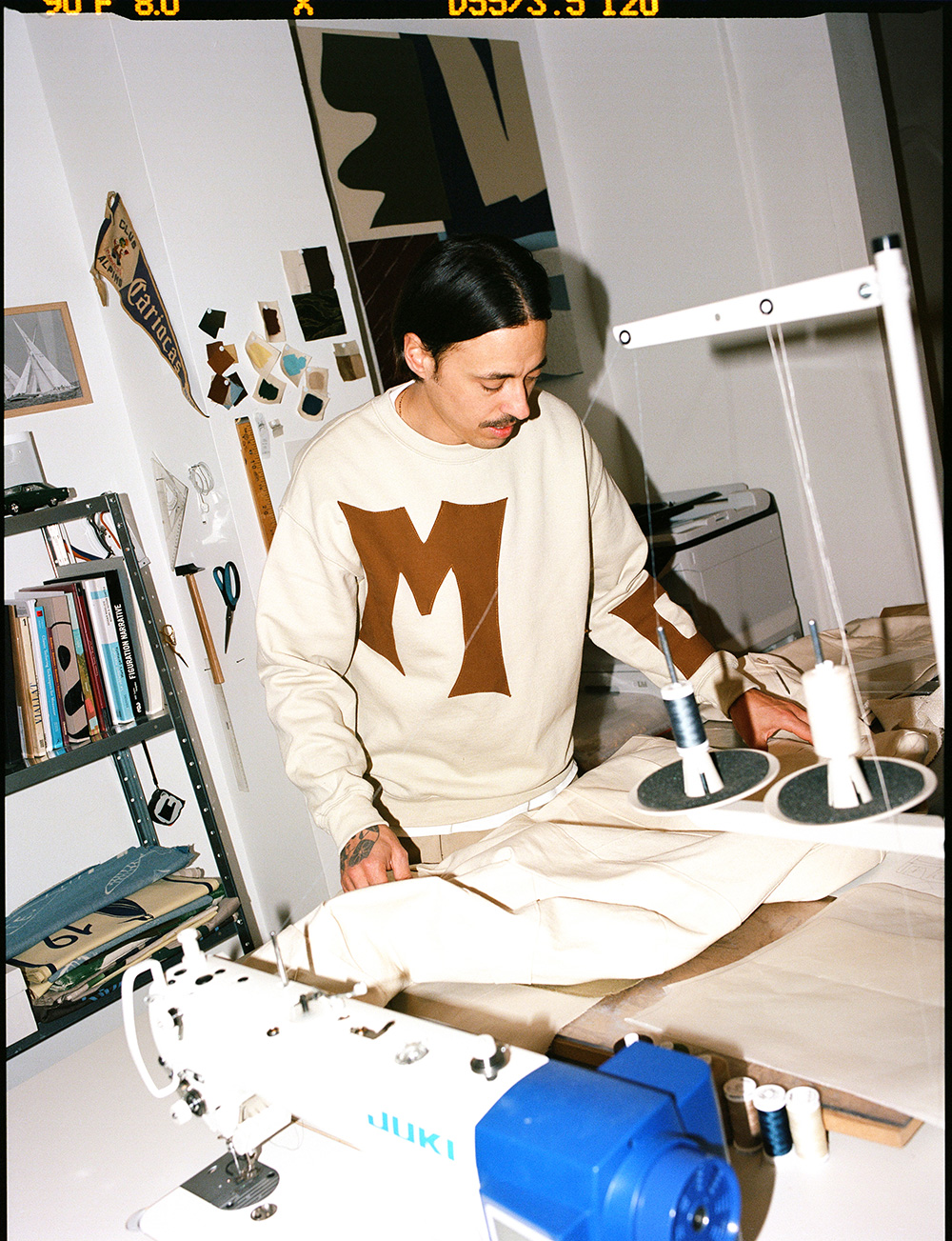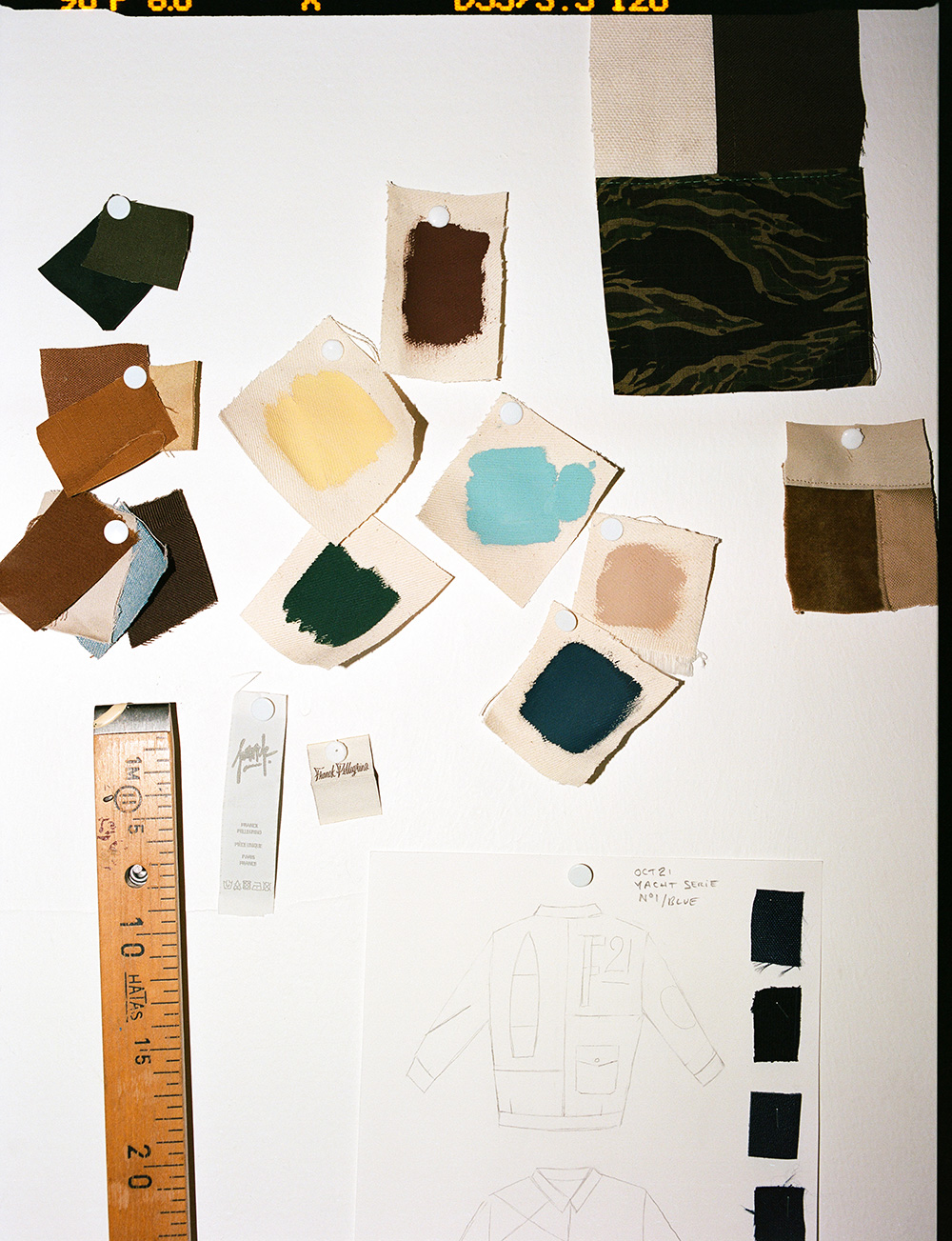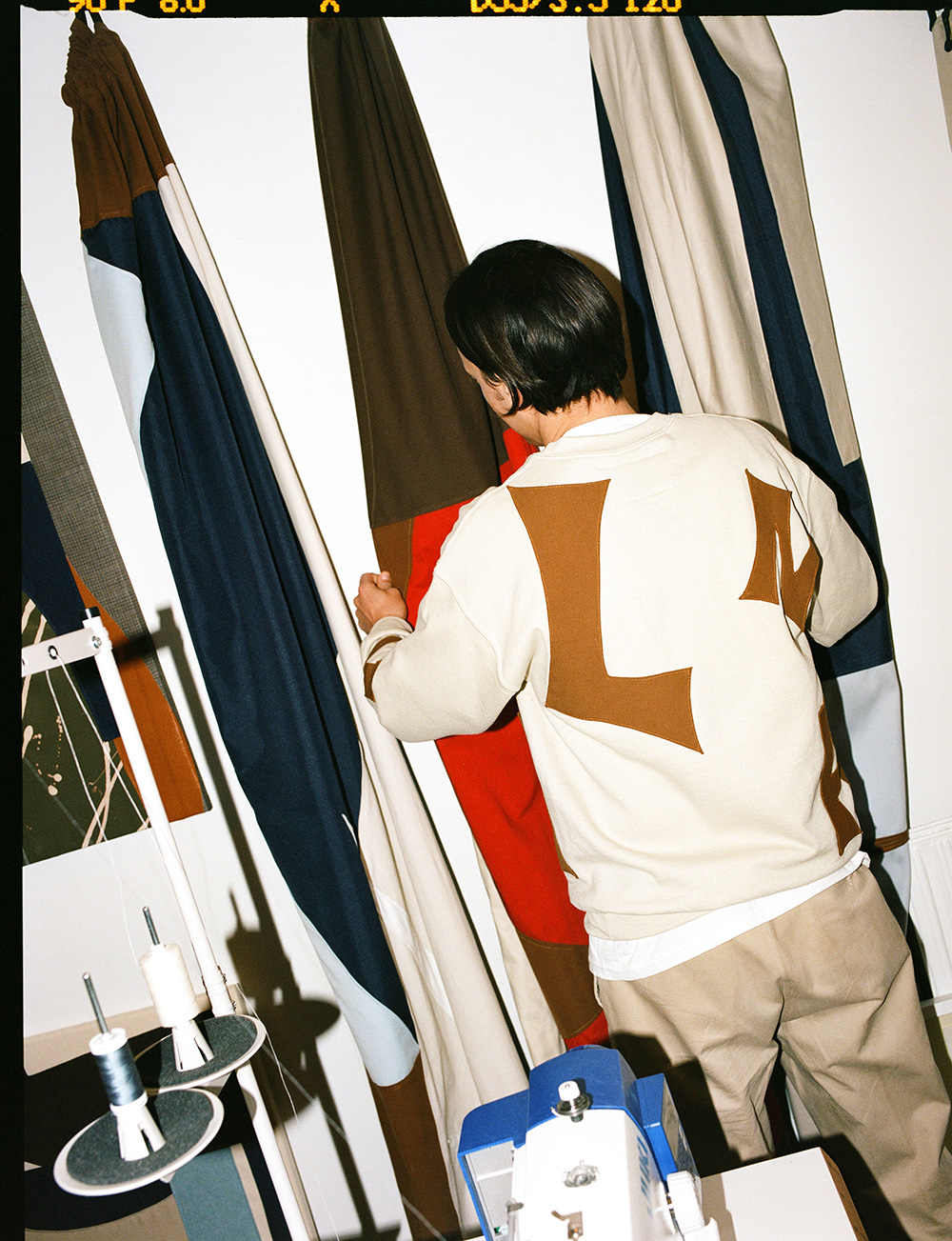 Do you have a clothing-related story you're particularly fond of?
I remember selling Levi's Vintage Clothing jeans in the store I was in charge of in the south of France, and almost ten years later, the same Levi's vintage branch contacted me to represent the brand as an artist for a project.
It felt very much like things had come full circle! 
Any favorite clothing items?
So many! The white tank tops I wear under my white t-shirts, for starters! Timberland 3-eye lugs, Clarks Wallabees, or Nike Cortez in almost every colorway (laughs).
I've always paid attention to the details and combined traditional menswear with sportswear. Ralph Lauren, a brand that really inspires me, has an excellent grasp of this balance, especially with the nautical influence. I grew up by the sea, and it immediately felt relatable.
What brands do you follow these days?
My friend's shop, Brut Clothing. It offers a perfect mix of limited upcycled collections and a wide range of vintage items. 
Can you tell us a little about the clothes you're making right now?
I've been working on this new project for two years. Instagram isn't the best platform to showcase the sensory dimension of my works, so it's always good to show things physically.
In March, in addition to my artwork on fabric, I will be showing my first real collection of wearable items. It's a way for me to ensure the canvas experiences the outside world and travels in its turn.
Like boat sails, my works will leave their original framework, take to the sea, float, and become part of a more intimate relationship. These wearable works will be unique pieces, hand-sewn, each one telling a story, shaped by the memory of the fabrics as well as my life experiences and travels.
I look forward to discovering how people will physically interact with these items. By elevating clothing to the rank of art – in direct opposition to the worldwide trend of frantic fashion overconsumption – I hope we can realize that each item we wear also has its own story, its own life.