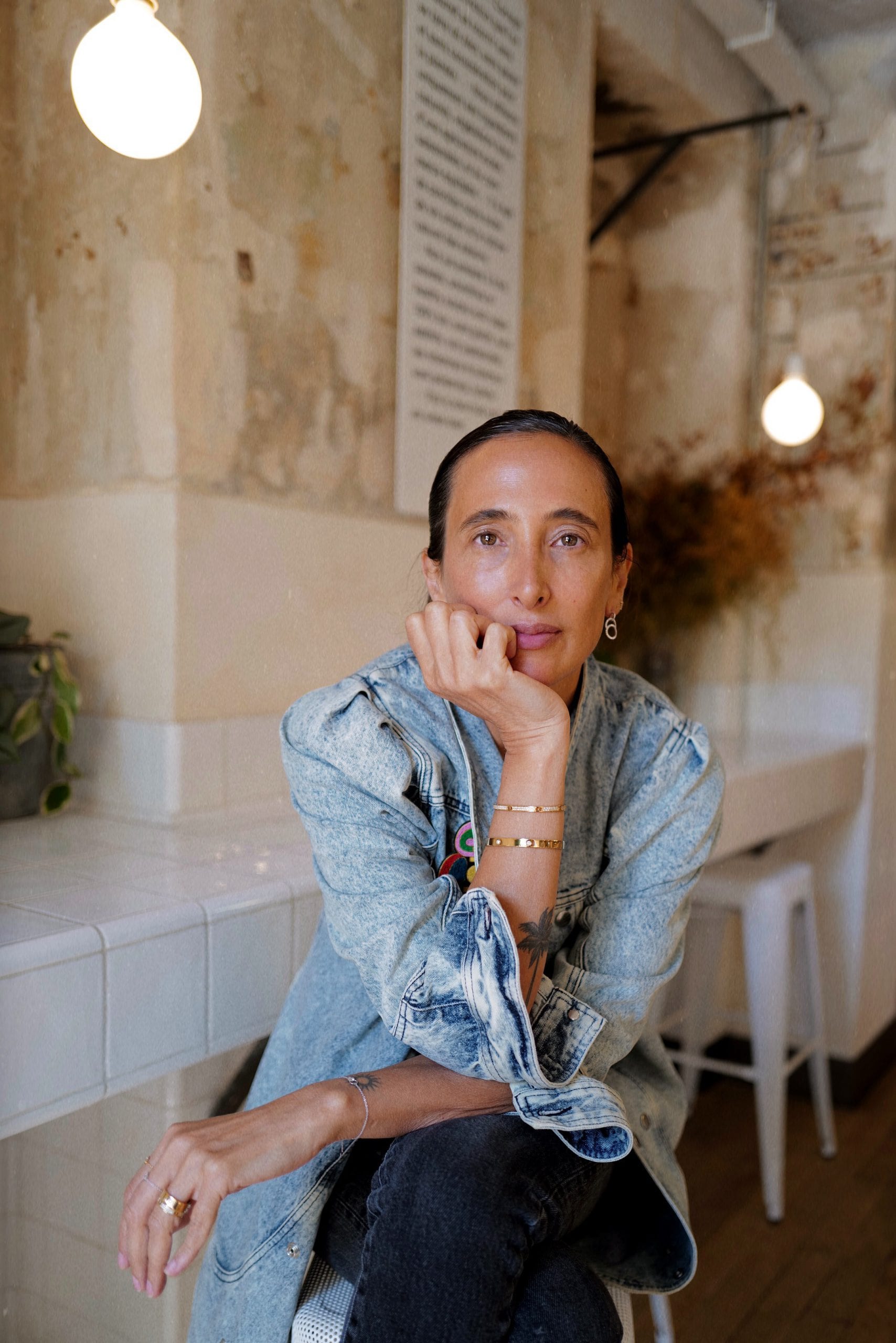 À la tête de près de 200 personnes entre Paris et les Emirats Arabes Unis, la parisienne Emma Sawko a connu un succès fulgurant avec son concept-store dubaïote et sa marque de bar à jus Wild & The Moon. Un pied à NY où la culture des bar à jus est vivace (et ou Emma Sawko a vécu 3 ans), l'autre bien ancré dans la terre, l'enseigne parisienne propose une alternative, végétale, locale et éthique. Ne cherchez pas le plastique dans les échoppes W&TM, il n'y en a pas. Le succès en fulgurant : en même pas 4 ans, la marque a ouvert 7 adresses à Paris, et a réussi à rendre (presque) normal le fait de s'envoyer un shot curcuma-gimbembre en arrivant au bureau ou de siroter une boisson au charbon actif en guise de gouter. Rencontre avec la responsable de ce tour de force.
With nearly 200 employees between Paris and the United Arab Emirates, Paris-based Emma Sawko has enjoyed incredible success with her Dubai concept store and her Wild & The Moon juice bar chain. With one foot in NY where the juice bar culture is alive and well (and where she lived for 3 years), and the other firmly on the ground, the Parisian juice bar offers a plant-based, local and ethical alternative to its competition. If you have a strange attachment to plastic cups and cutlery, W&TM shops are definitely not for you. The brand's success is impressive: in just 4 years, it has opened 7 bars in Paris, and has made having a turmeric-ginger for breakfast or an activated charcoal drink as a snack (almost) normal. We sat down to talk with the person responsible for this tour de force.
Comment a commencé l'aventure W&TM ?
Tout a débuté avec une pré-aventure, Comptoir 102 à Dubaï. Il faut savoir que j'ai passé une bonne partie de ma vie à bosser dans la pub, j'étais directrice associée de l'agence DDB, puis je suis partie à New York où j'ai notamment écrit pour des magazines comme Milk. Et puis j'ai du quitter New York et j'ai atterri à Dubaï. Au début je me suis demandé comment j'allais faire, tellement cette ville ne me ressemblait pas, je me posais 1000 questions. Et je suis repartie de ce que j'aimais. J'adorais la mode le design, les bijoux, l'architecture et le nourriture saine. Et je ne trouvais rien de tout ça à Dubaï, soit c'était très cheap, soit on tombait dans le luxe. En 2012, j'ai donc ouvert ce concept store mode bijoux design et comptoir de nourriture healthy, le premier aux Emirats. Et comme je ne sais pas faire si je n'y crois pas à fond, je n'ai pas fait les choses à moitié : pas de sucre, pas d'origine animale, je me fournissais dans des fermes bios… Et ça a été un énorme carton. Ça l'est toujours ! Il y a eu un vrai engouement pour la valeur végétale, le lieu a reçu pas mal de prix. J'ai trois enfants, ça m'a poussé à me poser des questions, et à vouloir aller plus loin. Et comme Paris me manquait j'ai réfléchi à faire quelque chose ici. Quand je vivais à NY je voyais tous ces bars à jus, je l'ai adapté à Paris. Je dis je mais je suis associé à mon mari. Avec Wild & The Moon, on a voulu proposer une carte 100% végétale, sans plastique, 100% bio. Le challenge c'est qu'il fallait que ce soit bon, pour dépasser ce côté chiant du bio des années 1980. Tout de suite l'engouement a été énorme.
How did the W&TM story begin?
It all started with a prelude, Comptoir 102 in Dubai. I spent a good part of my life working in advertising, I was the director of DDB, then I moved to New York where I wrote for magazines such as Milk. I then had to leave New York and landed in Dubai. At first, I had no idea what I was doing there, as the city wasn't at all the type of place I enjoyed. I had a thousand questions and no answers. So, I decided to start from scratch from what I loved: fashion, design, jewelry, architecture and healthy food. None of which I could find in Dubai. It was either very cheap stuff or full-on luxury. In 2012, I opened my fashion, jewelry, design, and healthy food concept store. It was the first one in the Emirates. Since I don't know how to half-ass things, I went all the way: no sugar, vegan, organic farm produce, etc. It was and still is a huge success! There was a real craze for everything plant-based, and the shop received a lot of awards. I have three children, so it made me question things, and I felt the need to go even further. As I missed Paris, I thought about opening something here. When I lived in NY, I saw all these juice bars, I adapted the concept to Paris. I keep speaking in the first person, but my husband is my business partner on all these ventures. With Wild & The Moon, we wanted to offer a 100% plant-based, plastic-free, and 100% organic experience. The real challenge was to ensure our juices tasted good; we didn't want to replicate the boring organic stuff from the 80s. It took off immediately.
Quelles ont été les grandes étapes du projet ?
Ça a été presque trop rapide. L'ouverture s'est faite en 2016. Evidemment on est jamais complètement prêt, même si on avait beaucoup bossé, mais ça a pris tout de suite. Honnêtement j'ai été surprise. La première adresse était dans le Marais, parce qu'on s'est dit qu'une clientèle familière de ce concept de bar à jus serait déjà là. Sur les parisiens on avait un doute. Il n'a pas duré longtemps. L'ambition derrière ce projet était grande, on ne s'est jamais dit qu'on en ouvrirait qu'un. On voulait créer une marque. Mais pas seulement une marque de nourriture, aussi une marque de lifestyle. Bien se nourrir, respect de soi, mais aussi de la planète. J'espère avoir fait un peu bouger les lignes, en faisant prendre conscience qu'on pouvait consommer différemment et que ce soit bon. Aujourd'hui 4 ans après, nous avons 7 adresses à Paris, 4 aux Emirats et W&TM c'est 100 personnes en France, 60 là-bas, plus 30 pour le Comptoir 102.
Walk us through the project's main stages.
It went almost too quickly. The first bar opened in 2016. Of course, You can never be fully ready, no matter the amount of work you put in, which was a lot in our case, but it took off right away. In all honesty, I was surprised. We opened the first bar in Le Marais, because we thought that would be where we'd find the clientele most familiar with the concept of a juice bar. We were worried about the Parisians actually understanding and liking the concept. Those doubts didn't last long. We had huge ambitions for this project, we never intended to open just the one bar. We wanted to create a brand. But not only a food brand, a lifestyle one too. Good food, self-respect, but also respect for the planet we live on. I hope I've made things a little bit better, and help people realize that they can consume differently and still enjoy good products. Four years later, we have 7 bars in Paris, 4 in the Emirates and W&TM employs 100 people in France, and 60 over there, plus 30 for Comptoir 102.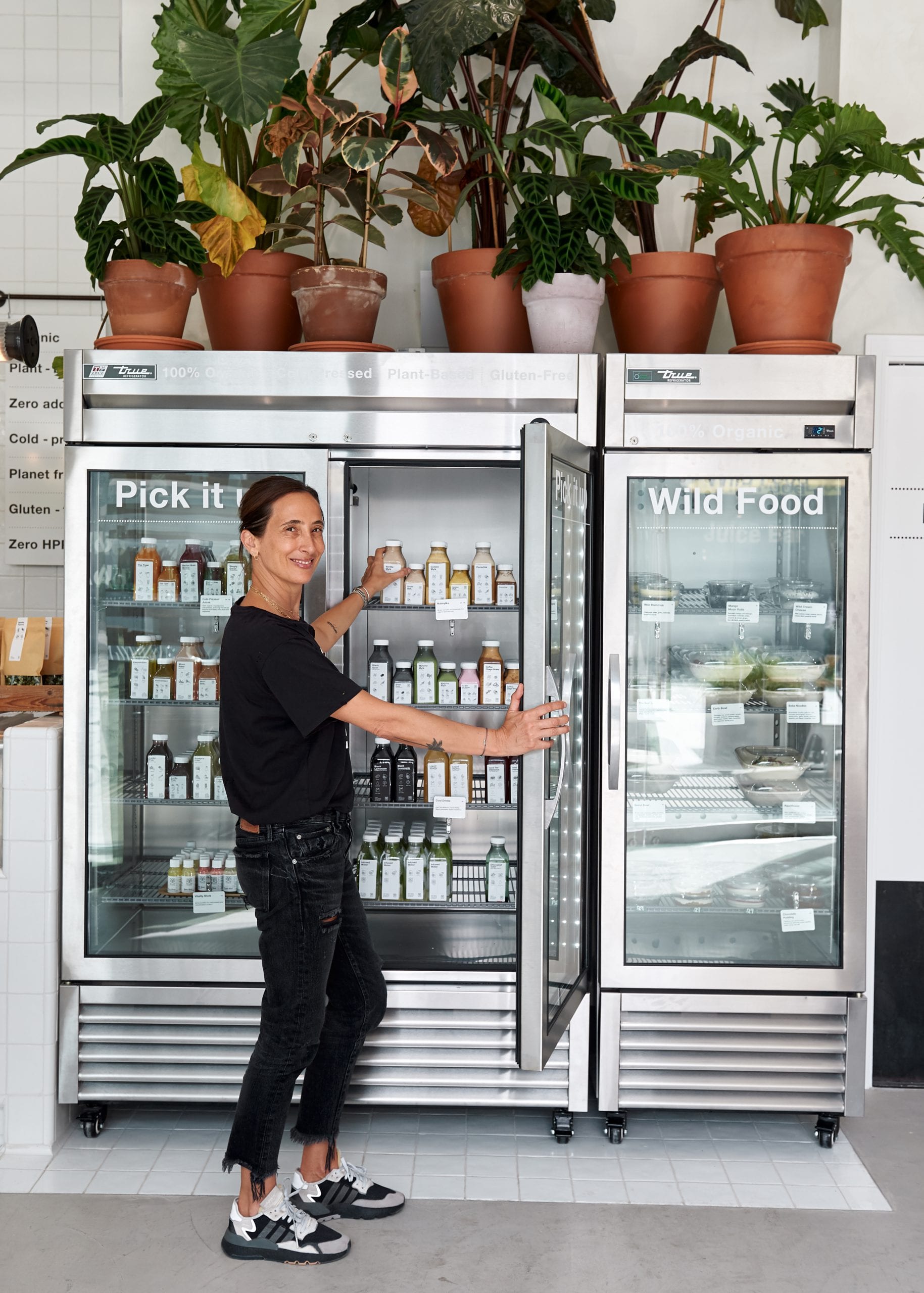 Quel est votre rapport à la mode ?
Aussi loin que je me souvienne, ça a toujours été une passion. J'avais un style un peu à part, mes copines me demandaient d'où venaient mes fringues. On me disait « ah tu devrais faire du stylisme ». C'est resté dans un coin de ma tête mais je ne pensais pas y faire carrière un jour. Avec Comptoir 102, j'ai eu envie de réunir mes passions sous un même toit, dont la mode. Je me suis inspirée de galeries new-yorkaises ou de Colette.
How important is fashion to you?
As far back as I can remember, it's been a passion of mine. My style was a little different, my friends would ask me where I got my clothes from. People kept telling me "you should become a fashion stylist". It stayed in the back of my mind, but I never thought I'd make a career out of it. With Comptoir 102, I wanted to combine all my passions under one roof, and that includes fashion. I was inspired by New York galleries and Colette.
Comment vous décririez votre style ?
Décontracté. Je travaille beaucoup, j'ai besoin d'être à l'aise. Je dirais un style rock chic je pense un peu bohème. Si je dois citer un label, ce serait Isabel Marant dont je porte les vêtements depuis 20 ans.
How would you describe your style?
Casual, laid back. I work a lot; I need to feel comfortable. I'd say rock chic, maybe a little bohemian. If I had to name a label, I'd say Isabel Marant whose clothes I've been wearing for 20 years.
Qu'est ce qui vous plait dans les salons MAN / WOMAN ?
Pour mes achats, j'ai l'habitude de faire les salons. J'y avais découvert des marques de bijoux que j'ai vendu chez Comptoir 102. La curation y est de qualité et la mise en scène agréable. C'est beaucoup moins le désordre que d'autres.
What do you like about MAN / WOMAN shows?
I'm used to going to shows for my purchases. At MAN / WOMAN I discovered jewelry brands that I sold at Comptoir 102. The brand curation is very high-quality, and the setting is pleasant. It's much less messy than other shows.
Comment s'est construite cette collaboration entre vous et le MAN / WOMAN?
Tout est parti de la relation amicale que j'entretiens avec Olivier, le co-fondateur, qui nous soutient depuis le tout début. L'équipe du salon a fait son marché dans notre carte et elle a imaginé des choses qui correspondent au salon. C'est très cohérent de voir nos deux univers réunis. 
How did this collaboration between you and MAN / WOMAN come about?
I have a friendly relationship with Olivier, the co-founder, who has supported us from the very beginning. The show's team had a look at our menu and imagined things that matched with the shows. It makes a lot of sense to see our two worlds together.