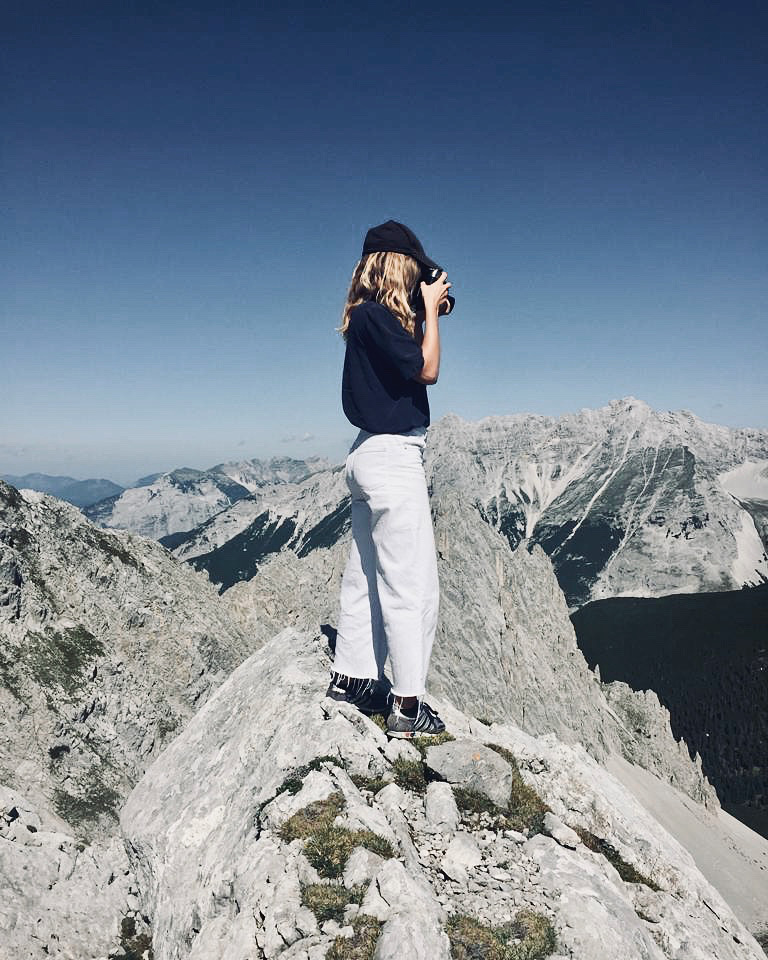 In search of the Matrix with Anita Schmid
This season, we worked with the Vienna based artist Anita Schmid who signed two paintings for our SS22 campaigns: Copenhagen and Paris. She spent some of her precious time to speak with us about her work and life.
Can you introduce yourself?
My name is Anita Schmid, I'm an Austrian Artist living and working mostly in Vienna. I was trained as an artist at the academy of fine arts Vienna and I made my master in Photography at the class of Martin Guttmann.
When and how did you start painting?
I started painting in March 2020 as the first confinement happened. Before I was in photography for over 10 years, but never really was content in that field and could completely identify with it. I always knew that I wanted to go deeper and reach a point where I really could say this work is the extension of myself and there is nothing in between. I finally found the courage to start painting and spend a lot of time working and searching for that deep feeling I was longing for. Also the confinement really gave me that space and time to try out new artistic point of views, without pressure to have to deliver. I'm happy that I can say now that I found that deep point, to materialise and show myself in the artistic work, the paintings, I do.
How would you describe your work and your universe?
My constancy is to be found in the search for the Matrix that inhabits and surrounds me, in the exploration of universal relationships and systems of perception. My vocabulary of sinuous forms, geometric cuts, and colours that gradually reach saturation, expresses the perfect balance of nature, the harmony of the depths, and pure instinct. The cosmic order finds its language there.The work reveals itself to myself when the concentration of energy is accomplished, there before me, indisputable. Like something new that one has always known.
What are your favorite materials and why?
At the moment I mostly work with soft pastels on grained paper. The pigments of the soft pastels are very strong and the colors very vibrant, so, I have the feeling they really get to you and I can easily translate the atmosphere of my inner vision in my paintings.
How does an artist like you manage to make a name for herself and create a place for herself in an era where everything is moving very fast and where you have to deal with social networks, among others?
Hmm… I can only do what I manage to do in one day. So if I try to force it it's not working anyway, so I stop and take some time off and then when I feel the inner go and the possibility to dive in another work periode I work as many hours as I can buy respecting my limits tho, if I push it too much and ignore my borders I can throw away the work at the end of the day. So I try to enjoy the process as much as I can and rest to collect energy if it's needed. I'm not very good with social media unfortunately, so I don't spend so much time with it.
In what conditions and in what environment do you feel best to paint/work? (inmusic, in silence...)
My perfect setting to work is in a bright atelier space with a lot of light and nature surrounding me. I love to go for walks once a day, somewhere really calm and protected is perfect for me. This year 2021, I'm kind of a Atelier nomade. I worked for two months in the south of Spain near Sevilla where I had an artist residency in an nationalpark, and in Blanca on the top of a hill where I could overview the whole area. Also I had a shared workspace for two months in Vienna and for 3 weeks in a castle in Normandie to prepare an exhibition in Paris at the beginning of may. At the moment I'm in Vienna again at an old empty castle in a big parcarea where me and other artists got spaces to work till they're gonna renovate it in November and build luxury apartments. Lets see what comes after that, I'm open to every possibility. Also every place brings a special inspiring energy with it, so I like the variety. So as I most of the time in a very concentrated nearly meditative state of mind I like to have it calm and I'm barely listening to music.
View this post on Instagram
View this post on Instagram
How long does it take you on average to complete an artwork?
It really depends on my working flow and how much I'm connected with my intuition and trust and not think too much. It can happen that I only need two days for a big one but one week for a small one.
Which artists inspire you and which ones would you like to work with?
My biggest Inspiration is Hilma af Klint. Also Emma Kunz, Agnes Pelton, Maya Deren. Contemporary artists I love Jorinde Voigt, Claudia Wieser, Caroline Denervaud, Loie Hollowell
What gallery, exhibition, museum would you like to do and why?
DoubleV Gallery Galeria Casado Santapau Marianne Boesky gallery
What does it mean to you to be a woman artist in 2021?
It means form e to consciously to bring the feminin aspect into my work and show the softness but strong Force feminine energy and be persistent in it. It also means to work as much as possible to get visible and find your strong position in this crazy man dominated art world.
What are your future projects?
At the moment I'm preparing a show for Parallel Vienna, it's an art fair which happens at the beginning of September in Vienna. I also was selected to create the entrance of two buildings, which are gonna be built, with my marble and mirror sculpted which are also a part of my work repertoire. And then of course the exhibition for MAN/WOMAN at the beginning of October in Paris. Also I will participate with a solo exhibition for the programme of Vienna art week in november. So there is a lot of work ahead of me, which is good.