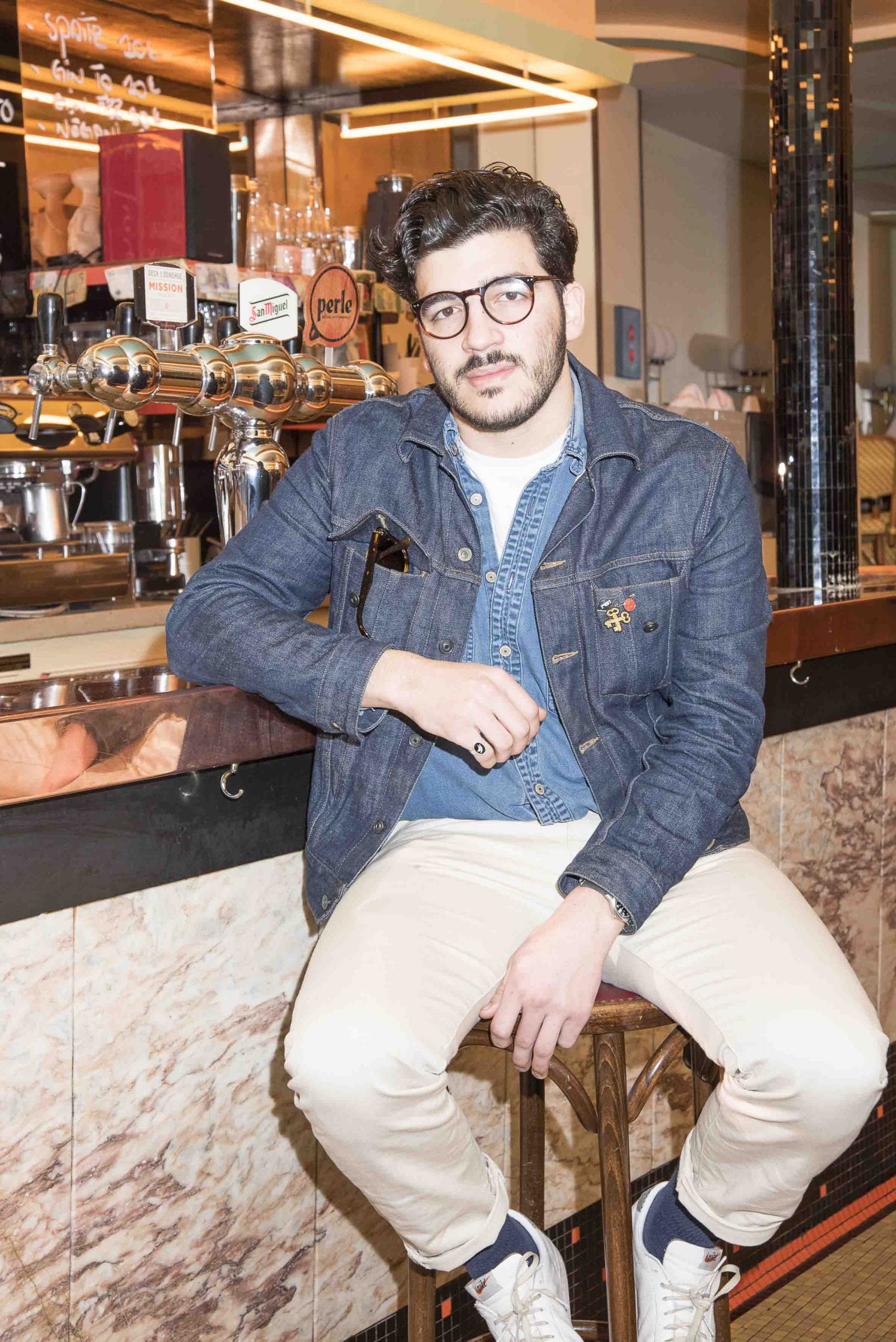 Tell us how you got started as a chef.
When I was 14 I met [French food critic] François Simon at an event organized by food guide Le Fooding. We had a great talk. He knew Kaori Endo, currently chef at Japanese restaurant Nanashi, who was at Rose Bakery at the time, and she spoke to me about Iñaki Aizpitarte, a "crazy, visionary chef", who at the time had just opened Le Chateaubriand. I went with my father to have dinner there. It was my first five-course tasting menu. It was stunning. Monumental. A revelation. I had never imagined going to a restaurant and feeling that. It was one of the most beautiful meals of my life. As you ate it, you were like, "Fucking hell…" and I wasn't even a cook at the time so I didn't even realize the amount of work that went into it. And it wasn't just about what was on the plate. The waiters were all in sneakers and worn but clean jeans, white shirts and blue aprons. It was friendly but polite. It was noisy, but in the background you could just hear the Stooges. We ended up talking to Iñaki. He told me, "Finish school, find a cooking school, and then come back and see me". Later my Dad said something funny, "Pierre, I think it was one of the best meals of my life, but I don't want you to go and work there because I think they party too much". As a Dad would say to his 15-year-old. I went back to see François and told him that it was perhaps better I started somewhere more conventional. He said to me, "Go and work in a big five-star hotel or a big brasserie, a big machine. You'll learn techniques that will be useful all your life". I ended up at the Plaza Athénée with Alain Ducasse for three years. 
Are the kitchens in those luxury hotels as hostile as people say?
Of course. I cut herbs and made vinaigrette for six months. It was very, very hard. It's a violent and tough world, which was the opposite of how I'd grown up. I had always been calm. After a bit I realized that now and again you had to show that you could be stupid and violent so people stopped bothering you. I lost 10 to 15 kilos in the first six months. I couldn't sleep; I was constantly stressed. But I discovered a lifestyle. If you compare it to fashion or a magazine, instead of a show or a deadline every two to three months, you have a rush twice a day. It doesn't last long, but it's really intense. I was really happy to work there; I learned so much. I worked on all the different services, mainly in Le Relais Plaza. That's the brasserie, but a luxury brasserie with the sole at €68. There are things that don't change there and some customers have been coming for 40 years. I remember one woman who came for lunch every Thursday at 1pm and had a fillet of poached sole and boiled vegetables. It was great to have this classical apprenticeship because you never forget it.
What do you mean?
Now I've been head of a kitchen I would never think about recreating any dish we did at the hotel. But when my fishmonger offered me affordable soles for Aux Deux Amis, the restaurant I've been working in most recently, I would immediately think about doing a sole meunière. I know we have great butter, so we can do it, and then we'll accompany it with something other than mashed potatoes and spinach. But it's a great base. It's in those moments that I feel happy to have spent hours and hours at the Plaza cooking 40 to 60 soles a day. 
After the three years in a classical register, you moved to the UK?
Yes, first in the English countryside between Oxford and London. A sort of gastropub that had a Michelin star. I worked there for two months to get out of the city and change my ideas. I lived onsite in renovated farm buildings and we did everything ourselves. In the morning I'd go to the restaurant and get the bread going. Then I'd go home, walk the two dogs, and then take the deliveries. We'd start the day and then I'd spend afternoons walking in the woods. It was a real change of scenery after the Plaza, and not just in the surroundings. The restaurant completely rejected classical French cooking and was concentrated on British food. So the first day I was told to prepare some tomatoes, which I did as I would in France. I did five kilos of it before someone looked at it and said I'd got it completely wrong. After the pub I went to work at Sketch in London for Pierre Gagnaire, one of the chefs with the most Michelin stars, an incredible man. He loves to experiment and he has all the flavors he's come across in his head and he invents mixes of flavors really easily. It is a two-star restaurant, so a lot of work. It was classical French cuisine, but with really surprising taste combinations. I remember endives sautéed in butter, deglazed with Guinness, accompanied by an oyster and some ham and sheep's cheese. To begin with, I was like, "What am I doing here?" but it turned out to be a magical experience. It made me realize that real complexity is really hard to achieve. 
How did you end up at Aux Deux Amis?
I went to Japan for a week with some friends. I'd already been with my parents. My mother worked for a Japanese company for more than 15 years, my father has worked a lot in Japan, and in the all the restaurants I've worked in, I've always come across quite a few Japanese chefs. So I knew the culture pretty well, but I really wanted to go back because I wanted to see things from a chef's angle. Explore, taste everything. I ate two or three times a night and put on 10 kilos in a week. I just immersed myself in everything and came back saying to myself, Now I want to see what I'm worth. I could get my wings burned, it could be too early, but I want to do it. I was a regular at Aux Deux Amis, and I knew they were looking for someone for their two-man team: one for lunch, the other for dinner. It was good for me because I wanted to express myself. But I've done that now and so I'm leaving for Uruguay in a month to do the summer season by the sea. I'm thinking that when I get back I'd like to be part of a big kitchen brigade again, where there are 30 people and everything is calibrated. I kind of miss it. It's an artisanal trade where you use your hands every day and learn by repeating things all the time. The problem with Aux Deux Amis is that it's a permanent experiment: you change technique or ideas so often that you can't perfect what you do.
What inspires you?
I recently went for a walk in Chinatown and bought some vinegar and pomelos. The result was as pomelos, olive oil, burrata, cubeb (a pepper with a licorice taste). Then one night, no more pomelos, so I had to rethink it. I thought I might as well go full Asian, so I added a few drops of sesame oil or some passion fruit. Sometimes I have to do a dish two or three times in a row to finally find the right solution, and sometimes you do it once, put it to one side and come back later to find the right solution. I note everything I do in a notebook, so I can keep track of my experiments. When you're a chef, you go to the market because having everything in front of your eyes is great. I always look at everything. In the end, you often go to the same guys, but you have a look at the others to see if they might inspire an idea. You immerse yourself in feelings. I work quite a lot by instinct. I also buy lots of recipe books, especially old ones. There is a bookseller by the Seine near Rue Dauphine, who has incredible stuff. I don't go too often or I'd spend too much money. That and restaurants are a problem! But to make food you have to eat it. It's silly – but it's really important.
And travel?
Obviously. I often go to Italy in the summer, and I always go to those little restaurants by the sea where they serve maltagliati, pasta made from dough scraps, with clams, garlic and pepperoncino. One day the pasta arrived just as I was finishing my spritz. I bit into the orange slice and then begin to eat my pasta, and that bitterness with this dish was amazing. Then about two weeks ago I made a risotto with squid ink and orange, which I later reworked as risotto with orange and a pumpkin purée. It's a dialogue. This creative process is really important to me, this evolution, discussion and dialogue with other people. 
What links do you see between music and cooking?
Well, I like to work with music in the morning during the set-up. I sing quite a lot too, unfortunately for the kitchen porter. I've had the same iPod for 10 years and I listen to some recent stuff I come across when I'm out – Drake, for example – but I listen mostly to rock from the 1960s to the 1980s. I grew up with it. It influences you. It's like how you don't cook the same when you're in love or when you're sad. Some days you are edgier, others softer. 
What's your approach to fashion?
People often tell me that I always dress the same way. I have a kitchen uniform: a pair of Dutch clogs in wood and black leather, black trousers from the same brand, and a white, long-sleeved chef's jacket. Outside of the kitchen, I mostly wear boots, jeans, T-shirt, shirt, jacket and scarf. It's my uniform. Fashion is a pretty precise job as well, with real savoir-faire. Like in a kitchen, you can't reinvent the wheel, but you have to think differently and see what you can do with what's already been made, while being creative and pushing things forward.